T 85™
Specification: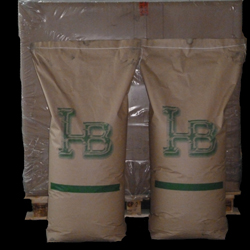 Graphite T 85 is a new development on the basis of graphite and other carbon and mineral materials. It is especially used for bigger pieces made of brass. The specific gravity is about 0,5 kg/l.
Packaging:
Powder in multi-layer paper-bags with a net weight of 40 kg.
Application:
Graphite T 85 is used as an immerse product (dip-product) applied with the foundry of brass after the techniques of manual, mechanical and low pressure.
Graphite T 85 is also suitable for lead-free brass casting.
Treatment:
Graphite T 85 is mixed in water in the proportion of 1 to 5 and is at once ready for use. The proportion can be changed according to the weight and thickness of the sides. Graphite MS or MS 50 G can in special cases be added to Graphite T 85. Thus the covering power and sliding ability can be improved. It is recommendable to keep the whole liquid in motion by appropriate device (stirring apparatus).
Bearing application:
In dry rooms Graphite T 85 is indefinitely imperishable.
Effect:
Longer durability of the die
More castings before a cleaning of the permanent mould becomes necessary
Improvement of output and productivity through a better liquid flow of the metal
Uniform surface of the castings
Less subsequent after work of the casting
Reduce hot cracking tendency.
Responsibility of characterization:
According to the German regulations about dangerous materials this material need not be particularly characterized.
The preceding data are in accordance to our present knowledge and experiences.