D 12™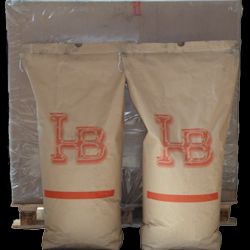 Specification:
Graphite D 12 is a powder, made on the basis of graphite and other carbon and mineral materials. The specific gravity is about 0,2 kg/l.
Packaging:
Powder in multi-layer paper-bags with a net weight of 20 kg.
Application:
Graphite D 12 was developed for the lay on by injection-pistols in die-casting foundries for brass which works with low-pressure machines.
Graphite D 12 is also suitable for lead-free brass casting.
Treatment:
Graphite D 12 is mixed in water (free of clods). It is suitable to mix with stirring apparatus.
The proportion: 20 – 40 kg powder in 100 kg water. The proportion can be changed according to the weight, the thickness of the cast, the smoothness of the surface and inclination for cracks of the cast.
Graphite D 12 in special cases, can be added to Graphite I 75 L in bathes for dipping. That will give a better adherence on the die and more smoothness of the cast.
Bearing application:
In dry rooms Graphite D 12 is indefinitely imperishable.

Effect:
Longer durability of the die
More castings before a cleaning of the permanent mould becomes necessary
Improvement of output and productivity through a better liquid flow of the metal Uniform surface of the castings Less subsequent after work of the casting Reduce hot cracking tendency.
Responsibility of characterization:
According to the German regulations about dangerous materials this material need not be particularly characterized.
The preceding data are in accordance to our present knowledge and experiences.