Products
A great range of powder and paste graphite for dipping and spraying used in brass manual or machine casting, for low pressure as well as gravity die casting.
The following quality requirements apply to all die coatings: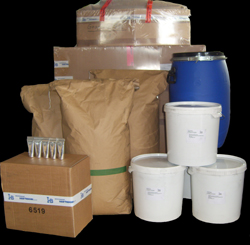 Control of the metal flow to ensure that it reaches all parts of the die at a sufficient temperature to prevent the formation of cracks, cold laps, etc.
Control the heat removal to let the liquid metal solidify at the right time.
Ensure a simple casting withdrawal from the permanent mould
An improvement of the surface quality in order to achieve a reduction in costs of reworking.
To extend the durability of the permanent mould in order to increase the productivity and reduce the maintenance costs.
You can find additional information about our standard products under the individual menu items.

DESOFIN, a grain refiner and a deoxidizing agent, being developed in cooperation with the US-company Miller & Engelhardt.
Meanwhile we produce DESOFIN in our own manufacturing plant in Germany.